Summertime in San Diego means beautiful, sunny days and spending time by the beach, but high temperatures can have a downside when it comes to the energy efficiency of your home.
To keep your house comfortable in the heat and save on long-term cooling costs, you may consider making some improvements to your space. By investing in your home, you'll reap the rewards of a comfortable and functional place to live, as well as boost its value.
California-based Northwest Exteriors is a longtime leader in the San Diego home-improvement industry, and it's the preferred choice for specialty improvements, including replacement windows and entry doors, siding, patio covers, and LifeRooms.
Certain San Diego residents may have an incentive to make improvements to their homes as part of the county's effort to reduce firefighting costs and structural damage from wildfires.
Grants are available for eligible parcels of land to help homeowners to meet fire-mitigation compliance. For more information on whether your home is eligible, click here.
>Whether or not you're eligible for a grant, you should still consider upgrading your home to stay cool and save money during the summer. Read below to find out what you can do.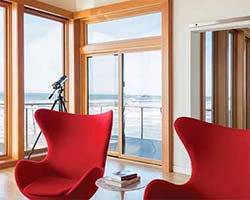 1. Replacement windows and doors
Replacing old, inefficient windows can lower energy bills, reduce outside noise, and protect you and your furniture from the sun's harmful UV rays. In addition, the closer your home is to the ocean, the more impact salty air may have on your windows. By replacing your windows, you can save up to 40 percent on your energy bills.
Anlin Window Systems are high-quality vinyl windows in a variety of sizes. Based in Clovis, California, Anlin is known for delivering durable frames and industry-leading, energy-efficient insulated glass systems. Anlin's sliding patio doors and swinging French doors keep the same eye on quality with an emphasis on security.
2. Siding

Upgrading your siding can provide a number of benefits for your home. Not only does it increase energy efficiency, but it also acts as the first line of defense against fires that begin outside. Siding protects your home from the elements (i.e. heat and rain), as well as structural damage.
New siding also dramatically improves the appearance of your home. Depending on your décor, you may choose from traditional vinyl siding, as well as engineered wood, cedar, and cultured or synthetic stone. All offer advantages in durability, beauty, and energy efficiency. A knowledgeable consultant can help you pick siding that complements your lifestyle and your home's design.
Spending quality time outdoors is possible all year long in San Diego, which is one of the many great things about the area. This summer, consider adding a covered patio or LifeRoom to protect you from the elements and enable you to enjoy your outdoor space more comfortably.
LifeRooms easily transform your backyard patio area into a cutting-edge indoor environment with the simple touch of a button. LifeRoom's "Cool Mist Climate System" is able to control the room temperature by 40 degrees Fahrenheit during the summer months, while the "Radiant Heater" will keep you warm during the winter. In addition, the "Smooth Glide Motorized Screens" provide as much shade or light as needed, while also acting as a shield from wind and insects.
In addition, special financing, tax credits, and government rebates can help cover costs. Through the Property Accessed Clean Energy Program (PACE).
_____
How do you prepare your home for the heat? Call Northwest Exteriors, the preferred choice in home improvement. California-owned and operated, the company has served the state since 1995, with the Southern California branch operating under the highly knowledgeable and experienced general manager, Tom Fisher.
They offer quality products, including Anlin and Milgard windows, Celect and James Hardie and much more, all at a fair price. Don't want to break the bank? A Northwest Exteriors consultant can also help you explorefunding options. The company is even extending to its customers a True Double-Lifetime warranty to ensure their Anlin windows last a lifetime.
With more than 50,000 satisfied customers, Northwest Exteriors has earned an A-plus rating with the Better Business Bureau and is a Diamond Certified business. As a way of saying thank you, the company participates in a number of community service programs.
When you have decided on a home remodeling project, you want a company that has built a solid reputation for dependability, craftsmanship, and service. That is why clients from across Southern California and beyond recommend Northwest Exteriors to their friends and family, "Simply the Best … Trust Northwest."
To find out how you can make your home energy efficient and fire proof this summer, contact Northwest Exteriors for a free consultation at (858) 866-8660.