Liferoom Revolutionary Outdoor Living
Liferooms are Versatile & Modular
Liferoom Silent Motorized Screens
Liferoom Mood Lighting
Liferoom Soft Breeze Technology
Liferoom Cool Mist Climate
Liferoom - Revolutionary Outdoor Living
LEFEROOMS: The first OUTDOOR PATIO that becomes an INDOOR ROOM at the touch of a button.
Imagine being in the great outdoors while having all of the comforts of indoor living at your fingertips.
You'll Always Have The Best Seat In The House! Whether it's game night, or movie night…
LifeRoom is an ideal setup for the present and the future, and the price is suitable for most every budget!
Should you like some additional information have a look at the LifeRoom brochure or feel free to contact us and schedule an appointment. We look forward for the opportunity to be of service.
Innovative and Technologically Advanced
LifeRoom is an amazing setup that can easily transform your backyard patio area into a utopian indoor environment. If you love being outdoors while having all of the indoor amenities at your fingertips, then take a quick look at what the LifeRoom experience has to offer in its entirety.
LifeRoom is one of the most innovative and technologically advanced room conversions known, meaning that you can have a retractable and remote controlled room to suit most every occasion—with the simple touch of a button. Imagine being able to add an extra room to your home within minutes!
Liferoom: Born out of Sheer Innovation, Brilliance, & Technology
No matter what time of year it is, LifeRoom's climate controlled system can be used as a VIP room to entertain guests or spend quality time with your family, and it can also be used for some much-needed peace and quiet.
In order to make this possible, LifeRoom's "Cool Mist Climate System" is able to control the room temperature by 40 degrees Fahrenheit during the summer months, while the "Radiant Heater" will keep you warm during the winter. In addition, the "Smooth Glide Motorized Screens" provide as much shade or light as needed, plus they also provide the ultimate shield from the wind and those pesky insects as well.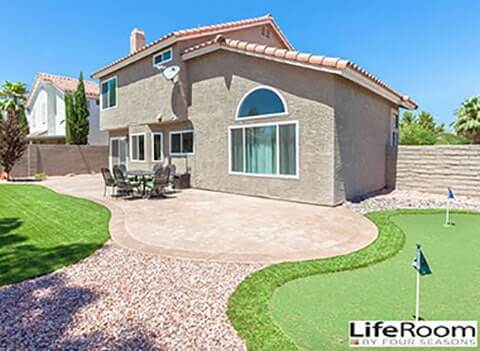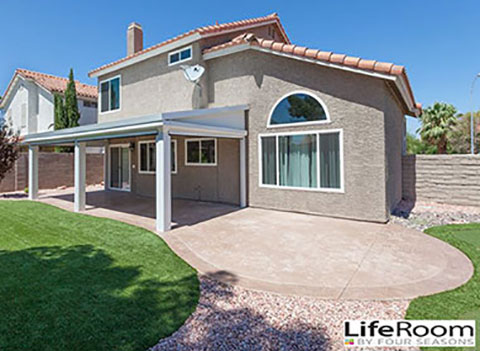 Drag Handle to See Before & After
LifeRoom: Where state-of the-art technology meets total comfort.
The Latium Group of companies is responsible for the creation of the LifeRoom, which is comprised from a number of companies from the United Kingdom and the United States combined, including Home Remodeling, Industrial and Office Property Management, Renewable Energy Solutions, and Vinyl Extrusion Manufacturing. Together, these companies have been able to create the ultimate inside-outside experience for homeowners everywhere.
Whether you're looking to entertain, watch some TV or simply relax, the LifeRoom is perfectly versatile for accommodating a variety of activities.
NorthWest Exteriors – Authorized Installers – Major Nationwide Brands
A popular choice for California homeowners, Northwest Exteriors is a fully authorized installer for some of the largest and most trusted home improvement brands in the United States. When it's time for your next patio project, we'll be there to help you achieve the exact look and feel to match your home's architecture and design. Depending on the product type, most come with some amazing lifetime warranties and some even allow for transfer of ownership. Wouldn't it be great to buy a brand new patio cover, and never have to worry about it again?
In addition to patio covers, Northwest Exteriors also installs some amazing Sunrooms, Pergolas and the popular LifeRoom from Four Seasons. Of course, we are well known for other home improvements such as solar, replacement windows, doors, siding, HVAC and more.
We sincerely appreciate the opportunity to be of service and look forward helping you get started.